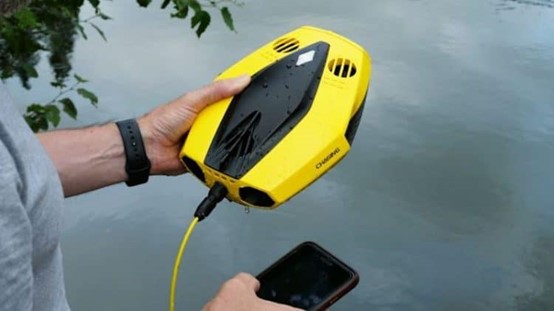 The beauty of technology is that today anyone can be Jacques Cousteau and explore the sea. It has never been easier than it is now because the Chasing Dory Underwater Drone Is Portable And Affordable. This drone is a bit larger than your hand. You don't need a waterproof camera, a large manned submersible or a smaller personal underwater motor to discover the secrets of the oceans.
Like this world's smallest camera drone, this is the smallest, the smartest and most affordable next-generation underwater drone there is. It boasts premium features, intuitive set-up and it makes sharing your adventures easy. Dory follows on the success of Chasing's previous Indiegogo campaign for Gladius back in 2017, which was also a big hit.
Discover The Mysteries Of The Sea
Dory is portable enough for any backpack, so it can go anywhere at any time, but perhaps the best feature is that it is so easy to use. The app allows you to control the drone with your smartphone. You can also share images and live stream what the drone sees. Add in premium performance at a great price and you have the true king of underwater drones. It has temp and depth sensors, accelerometers, gyroscopes and more at an affordable price that users are going to appreciate. A five person exploration submarine is much more expensive.
This Underwater Drone Has Lots Of Features
Chasing Dory has a Full HD (1080p) camera for video, an f/1.6 lens, LED headlights, five thruster propulsion. This drone should do well in low lighting since the LEDs are mounted in the front on each side of the camera. It can reach a maximum dive depth of 15 meters and still be controlled with the smartphone app.
An Underwater Drone That Gives You More
Other features include a depth lock so that you can keep it at the depth you want and keep it stable. If you want to get the best angle, the 45-degree tilt lock allows 45 degrees of movement to look down at the ocean floor our look up at the waters above. Duo Device Co-Play lets one person control the drone, while the other controls the camera. This adventuring drone also has 8 GB of memory in the Wi-Fi buoy.
There's no question that this is making a big splash in the aquatic drone market. You get a lot for the price and the device is designed very well. It lets just about anyone explore the ocean for a fun and with ease. Of course you could still use a subwing that lets you fly underwater.
Read more about it here. https://www.gadgetreview.com/chasing-dory-underwater-drone