Who is the Next "DJI"? CHASING-INNOVATION Targets the Blue Ocean Market of the Civilian ROV
Drone has been widely applied to photography, logistics and other scenarios. Chasing Innovation Technology Co., Ltd. (hereinafter referred to as "CHASING-INNOVATION"), the Employer of Zhou Changgen, made a decision to develop the ROV industry six years ago after it was inspired by an event.
DJI came out top in the intense competition broke out in the civilian drone market in 2016, and then who will be the next DJI in the blue ocean market of the remotely operated vehicle which was developed late.
After discovering that aerial consumer drone is not a good path to start a business because of fierce competition, CHASING-INNOVATION, located in Shenzhen - China's innovation capital, turned to the research, development, production and sales of remotely operated vehicles in 2016, with its products mainly targeting the consumer and light industrial markets.
Shenzhen, China is the highland of the domestic drone industry. Due to the industrial agglomeration effect, "the judges of the venture capital investment were not optimistic about our aerial drone, but highly praised the concept of ROV which was mentioned by us in passing, so we determined to adjust our product planning."
With the development of China's marine economy, there will be a dramatic increase in the market demand for the ROV, an important tool for underwater operations. It is reported that up to now CHASING-INNOVATION has produced and manufactured six generations of products so far, and completed four rounds of financing. Its overseas business accounts for about 90%, with products sold to more than 100 countries and regions.
"ROV or intelligent hardware is a RMB 1 trillion level industry, but the products are not enough for current market demand. With the breakthrough of some key technologies, more application scenarios of the ROV will be developed in the future." In an exclusive interview with Zhou Changgen, Executive Vice President of CHASING-INNOVATION, he expressed his optimism for the development of the ROV industry to the reporters of Southern Finance Omnimedia Corp.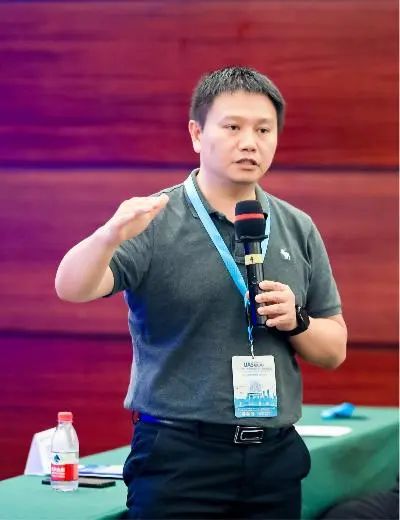 Target the blue ocean market of the civilian ROV
The industrial chain and supply chain of the drone products are mainly involved in Shenzhen and its surrounding areas with a 1-hour drive, which is related to the fact that Shenzhen is the manufacturing highland of new-generation information industry, artificial intelligence industry and electronic communication industry in China.
Before starting the ROV development in 2016, CHASING-INNOVATION was engaged in fierce competition in the consumer drone market.
As the aerial consumer drone industry faded in popularity and a highly concentrated market pattern led by DJI grew up gradually, Zhou Changgen and other founders targeted the blue ocean market of the civilian ROV, and the market for civilian ROV was poised for take-off. Beforehand, the ROV products were all oriented to the military and industrial markets, which were relatively isolated and conventional.
Mr Zhou said there were several reasons for developing the ROV market. First, a ROV expert joined the team. Second, the judges of the venture capital investment were not optimistic about the aerial drone, but highly praised the concept of ROV, so CHASING-INNOVATION determined to adjust its product planning. Third, based on the survey of the ROV market, it is found that there was still a blank in the market, and an urgent demand for relevant products.
The previous ROV products are "big, expensive and heavy", making it unsuitable for the consumer-level application. After the transformation, Mr. Zhou said that CHASING-INNOVATION independently researched, developed and designed the underwater thruster, connector, control system, underwater hardware structure and other technologies, breaking the original relatively conventional and isolated ROV industrial chain and gradually focusing on the development of ROV applications in consumers and light industries.
It is reported that at present, the global business share of CHASING-INNOVATION is about 40% for consumer products and 60% for industrial products. For example, CHASING DORY, the representative consumer product, is a mini submarine drone designed for travelers. CHASING M2 marks the formal entry of CHASING-INNOVATION into the B-end market of the light industry.
At present, there is no giant company taking the first place in the blue sea of civilian ROV. In order to achieve a breakthrough in the market, core competitiveness is of the essence. Before the establishment of CHASING-INNOVATION, Deepinfar Ocean Technology Inc., Boya Gongdao, PowerVision, QYSEA, Ostar and other enterprises have already engaged in this field.
CHASING-INNOVATION enhances its core competitiveness from key technology, supply chain and industrial chain. As introduced by Mr. Zhou, CHASING-INNOVATION has been completed its technical planning in terms of underwater image color restoration, ultra-short baseline underwater acoustic communication technology, ROV control algorithm, efficient vector underwater thruster system, etc. In addition, with three self-built factories, IPD development process, ERP production management + automatic production line, self-production of underwater motor and other core components involved in the key technologies, CHASING-INNOVATION is also advantaged in supply chain and industrial chain.
There is a extensive industry demand for ROV.
On August 25, CHASING-INNOVATION announced its completion of a Series B financing of RMB 10 millions, led by Shenzhen Nanshan Strategic Emerging Industries Investment Co., Ltd. (referred to as "Nanshan SEI Investment").
Nanshan SEI Investment is a wholly state-owned enterprise established by the People's Government of Nanshan District, Shenzhen. Cai Weibin, Chairman of Nanshan SEI Investment, said, "Nanshan SEI Investment is optimistic about the potential of CHASING-INNOVATION in the development of high-end civilian ROV."
Since its establishment in 2016, CHASING-INNOVATION has produced 6 generations of products and completed 4 rounds of fund-raising. Mr. Zhou said the new fund raised will be used to consolidate and improve the competitiveness, for example, such as continuous investment in technical research and development, intensified sinking of industrial chain end, brand marketing, branding, etc.
On the one hand, the market demand for ROV will be greatly increased as the marine economy has been speed up in Shenzhen. As set forth in the 14th Five-Year Plan for Marine Economy Development in Shenzhen, the general objective for Shenzhen during the "14th Five-Year Plan" period is to create Shenzhen into a "Leading Maritime Capital of the World" to build a pattern of coordinated marine economic development.
On the other hand, drone is a high-tech industry, giving the priority to develop in Shenzhen. "We can make a complete drone without leaving Shenzhen", remarked by Yang Shuanchang, deputy director of the former Equipment Industry Department of the Ministry of Industry and Information Technology and president of the China-Europe Association for Technical & Economic Cooperation, at the Fifth Drone World Congress 2021, which proves the concentration ratio of drone industry in Shenzhen. According to statistics, there were more than 100 drone enterprises in Shenzhen in 2020, with an annual output value of more than RMB 30 billion. The consumer drones in Shenzhen account for 90% of the total exports of consumer drone sin China.
Accounting for one percent of drone enterprises in Shenzhen, CHASING-INNOVATION is situated in Shenzhen, which is adjacent to Hong Kong, due to three reasons.
Mr. Zhou said, "Firstly, at the beginning of the transformation to the ROV industry, CHASING-INNOVATION benefited greatly from the complete drone industrial chain and supply chain in Shenzhen, the innovation capital of China, such as driving components of imaging, communication and power systems and other technologies. Secondly, most drone talents gathered in Shenzhen. Thirdly, Shenzhen was favorable in venture capital investment and resources, for example, CHASING-INNOVATION was granted the angel round investment after winning the Shenzhen "Entrepreneurship Star" Competition in 2017."
In November 2018, the Measures for the Implementation of Drone Flight Management in Shenzhen (Interim) was published, which categorized the drone management, designated the flight airspace, and launched the first comprehensive drone supervision platform jointly built by the military, local government and civilians in China. Four months later, the Interim Measures for the Management of Civilian Microlight Drones in Shenzhen came into effect, greatly simplifying the approval process for all types of drone.
The application of ROV has been turned from military field to commercial, civilian and other fields, leading to huge demand potential. For example, a wide range of hidden needs of ROV in the government and enterprise market, mainly including aquaculture monitoring, hull and dock inspection, reservoir dam inspection, municipal pipeline and bridge pier inspection and other scenarios. Taking aquaculture monitoring as an example, the scale of China's fisheries is huge, with data showing that there are 32,000 aquaculture farms nationwide, covering an area of 10 million hectares, while the global area is more than 60 million hectares. The ROV is an efficient alternative to divers for real-time mobile monitoring of fish cages, greatly reducing labor costs.
Furthermore, Mr. Zhou said that currently some key ROV technologies have not been broken through, imposing restrictions on the practical application of ROV in China.
In the face of the above troubles, CHASING-INNOVATION has also made many attempts. For instance, it held the forums jointly with Shenzhen Drone Industry Association, published the group standards Portable Remotely Operated Vehicle and Intelligent Swimming Pool Cleaning Robots, and made great efforts for the technological development of AI underwater products.
"As these problems are addressed, the ROV will further enrich its application scenarios, gradually extending market demand," said Mr. Zhou.