CHASING F1 Pro, an Intelligent Fishing Partner to Unlock New Fishing Experience
All fishing experts, have you ever thought about why is it that in the 21st century, we are still using the same fishing tools that were used thousands of years ago? We can now go hundreds of kilometers away based on the GPS navigation function of our smart phone, but why can we only use our eyes and ears to find a suitable fishing point at a pond of hundreds of square meters based on experience? Nowadays, mobile phones can take pictures of the moon. However, we have never seen or taken a picture of the moment when a fish takes the bait in the history of fishing. Is it impossible?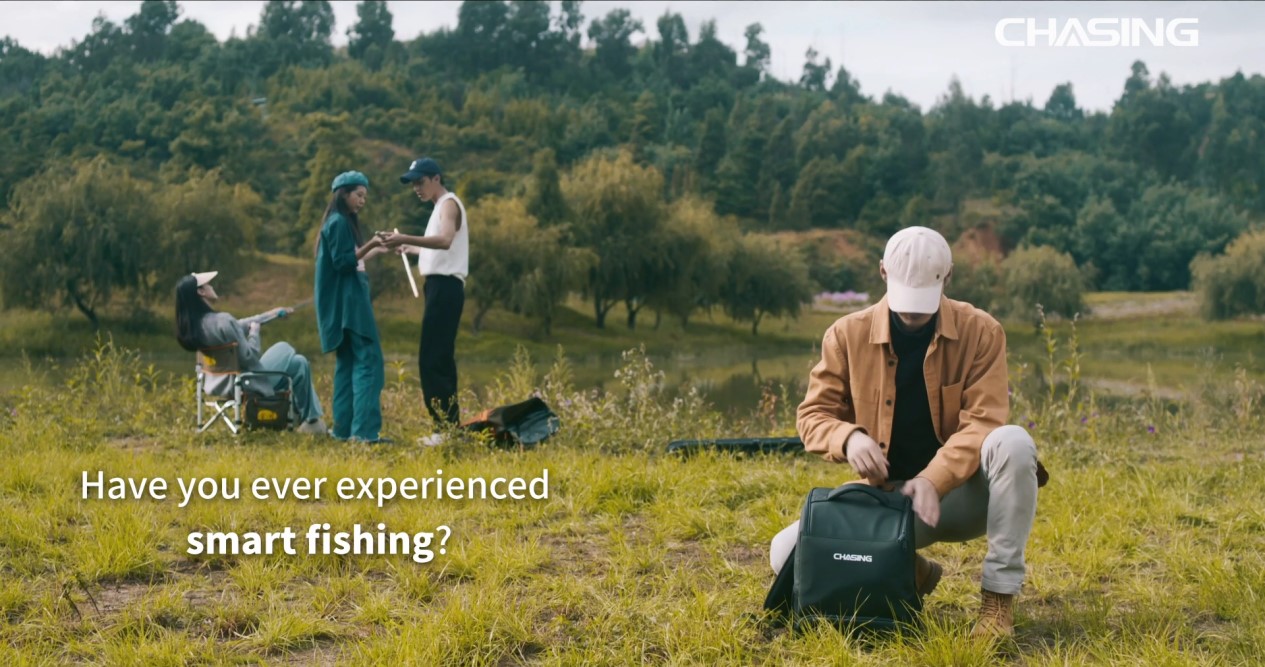 CHASING-INNOVATION, the world's leading drone enterprise, recently launches an "intelligent fishing partner" - CHASING F1 Pro, to address this impossibility for you. As an intelligent fishing partner, CHASING F1 Pro is a drone developed specially for fishing enthusiasts, innovating the fishing experience and making fishing more intelligent.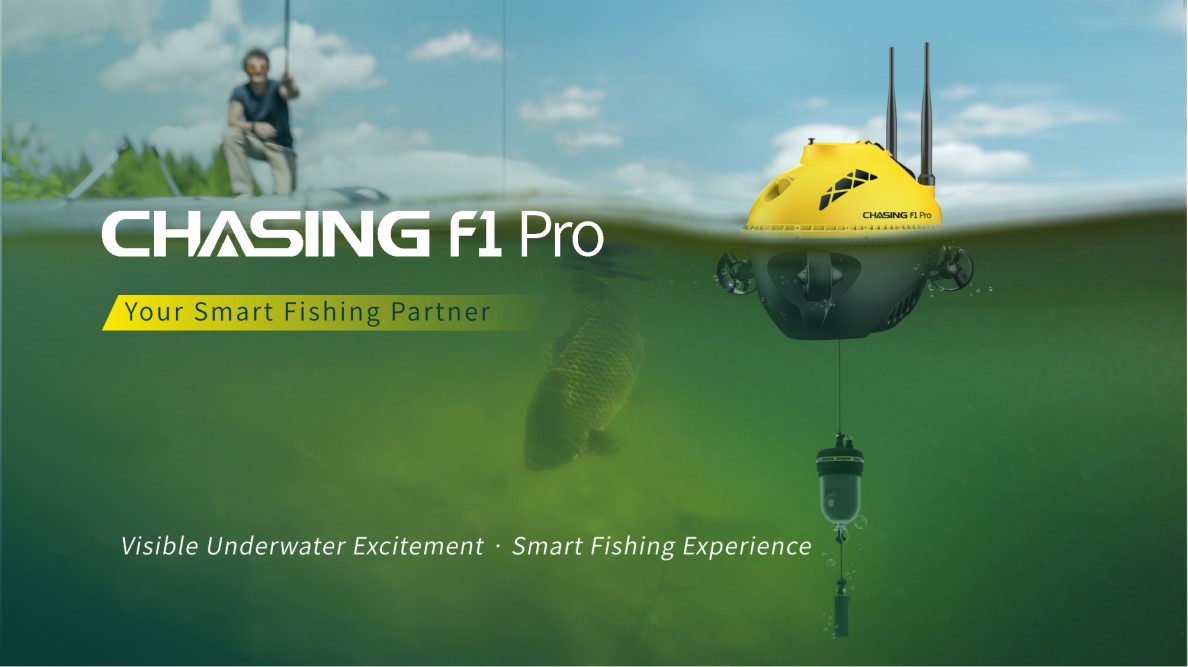 See where you want to see, even in underwater environment
CHASING F1 Pro is equipped with a CHASING F1 rotating camera, which can rotate 27.5° upward, 75° downward and 360° leftward and rightward, enabling a wide field of view. The camera direction is controlled by APP or remote control, and the viewing angle and screen of the camera can be displayed in real time, recording the real wonderful fishing moment as our eyes can see. 1080P FHD stellar camera can capture the moving objects clearly. As a FHD stellar camera supporting 1080P video / 2.0MP photos, CHASING F1 camera can take high-definition underwater images. Equipped with a built-in SONY stellar sensor and six yellow floodlights, CHASING F1 Pro can see up to 2 m in the dark at night. Furthermore, its arc streamlined shape can effectively reduce water resistance, resulting in less impact. Integrated with the EIS technology, CHASING F1 Pro can take pictures more stably, thus providing higher-quality underwater images.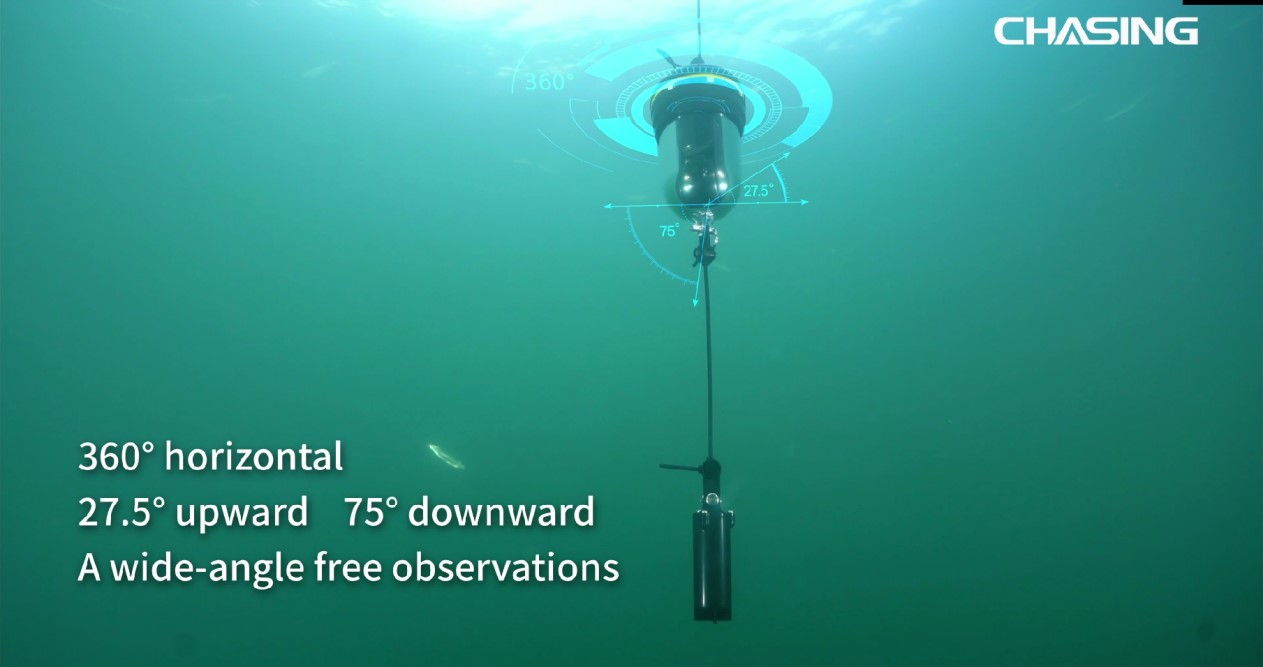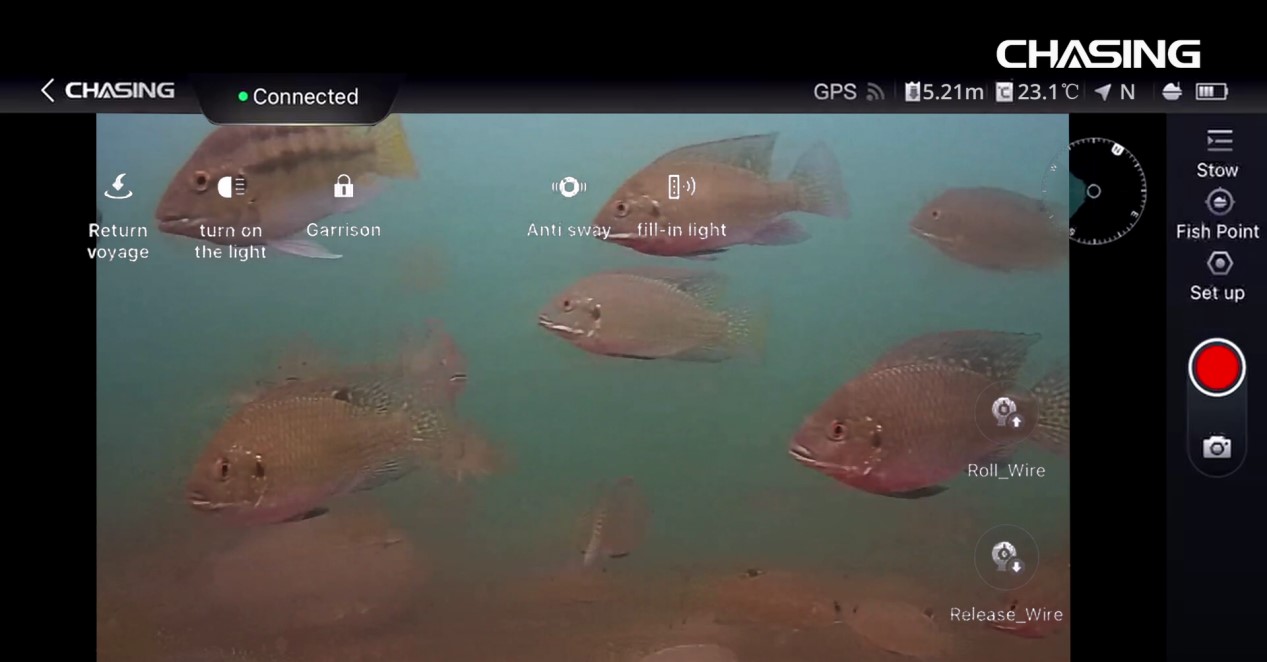 APP-based intelligent operation to move on the water in all directions
CHASING F1 Pro can be controlled by APP or remote control within 30 m /60 m. It can be connected within 30 seconds and easy to get started. In addition to simple built-in functions, it is armed with an upgraded control system, an UI interface, and a thoughtful mode, leading to more convenient and smooth interactive experience. Assembled with four vectored thrusters, CHASING F1 Pro can move on the water in all directions to find a suitable fishing point faster and more accurately. CHASING F1 Pro is built with communication and power supply ports to connect more accessories. It also can mount remote bait boat to place the bait through APP quickly, and can mount sonar mounting support (such as DEEPER Sonar and Wifi Fish Finder).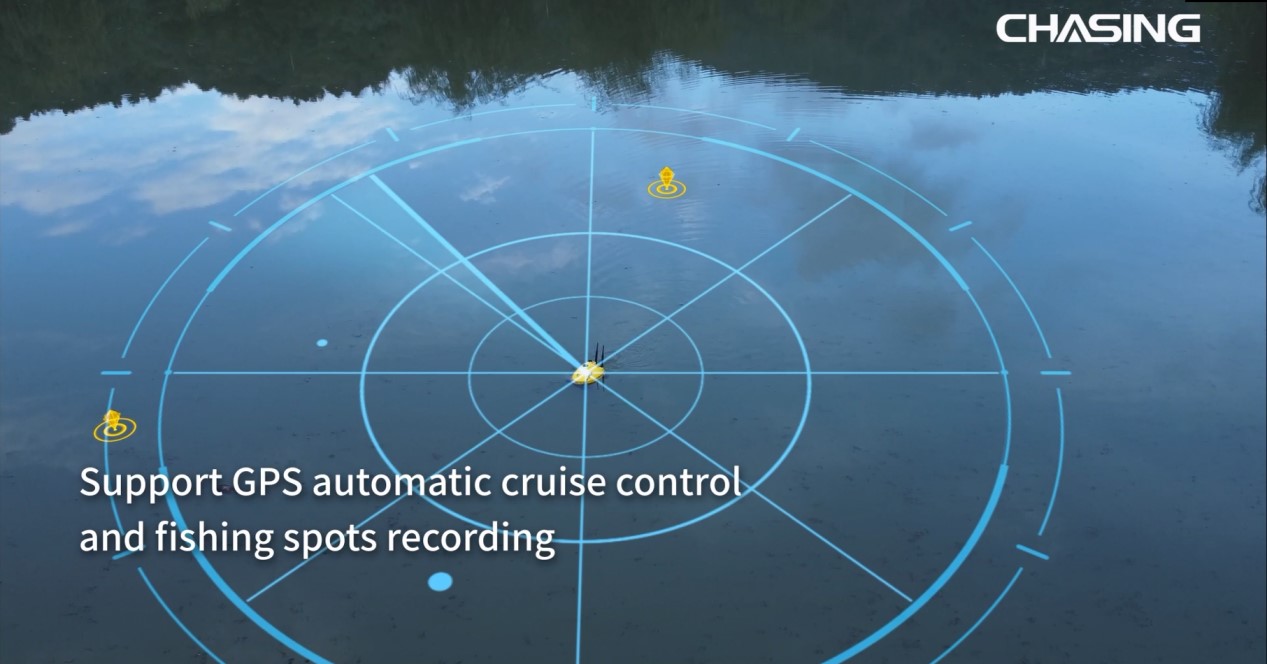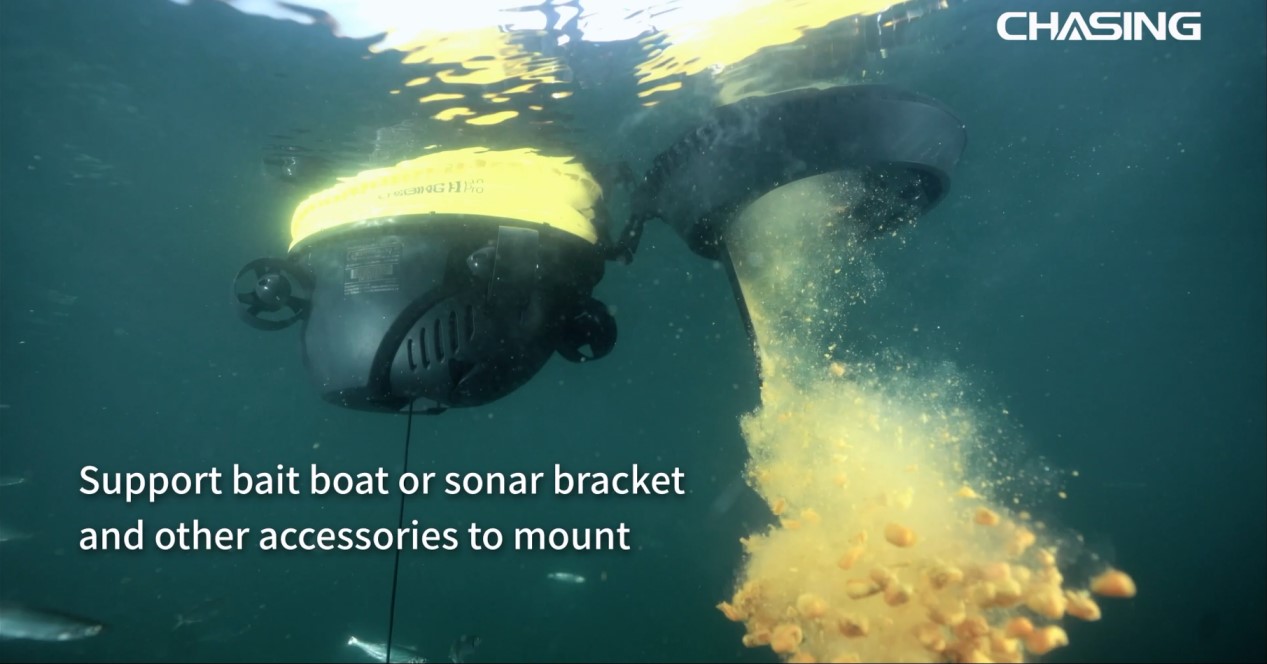 Actualize live streaming and multi-platform sharing
The pictures of each amazing underwater moment can be downloaded and shared whenever and wherever possible.
CHASING F1 Pro supports the live streaming on platforms such as KUAISHOU, TikTok, HUYA, DOUYU and Youtube, and shares photos/videos to social platforms easily. It is provided with a built-in removable 16GB MicroSD memory card (up to 256G).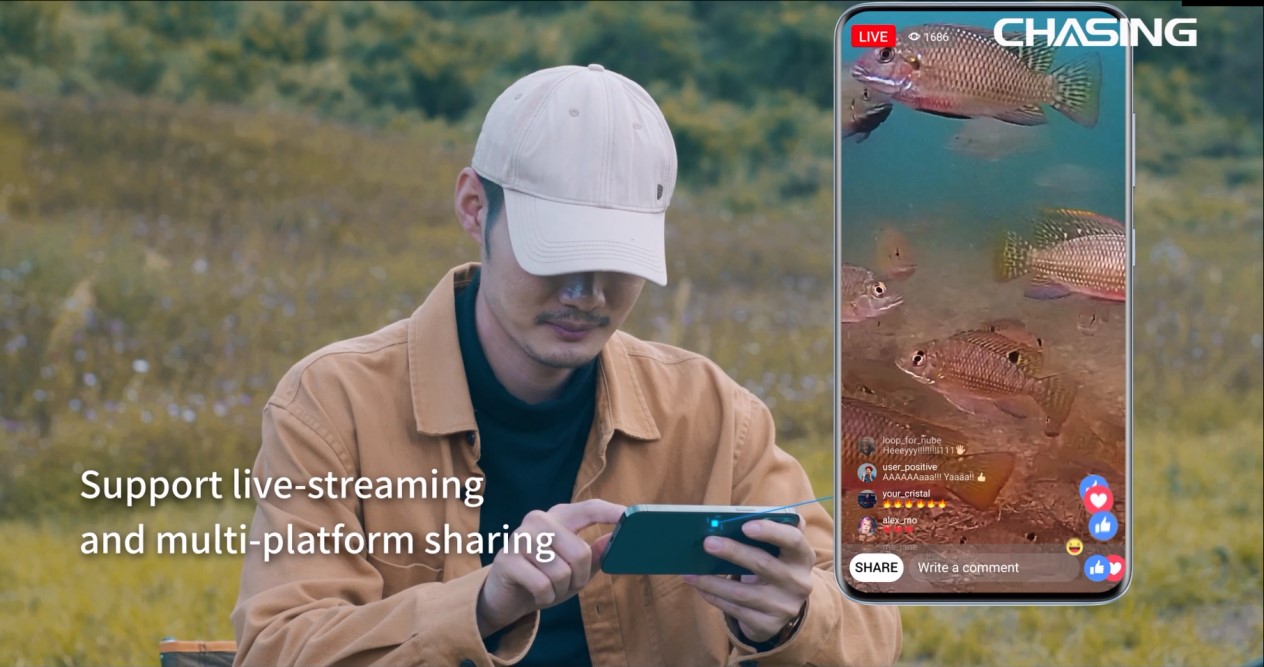 CHASING F1 Pro is carefully developed and designed by CHASING-INNOVATION, a drone enterprise, enabling you to observe and record every splendid underwater moment in a more intelligent way and enjoying a new fishing experience.