Chasing M2 ROV Recovered the GoPro after Myakka River Gator Attack
Background
25-year old Jeffrey Heim , a Florida resident , was diving for fossilized shark teeth in the Myakka River. He filmed his dive with a GoPro camera attacked to his diving helmet. During his dive, an alligator attacked him and knocked his helmet and GoPro off his head. Local fishermen have search for the missing GoPro ,but they were unsuccessful. NBC2 reached out to FLYMOTION to ask for assistance searching with an underwater unmanned system.
https://www.youtube.com/watch?v=OPDPi4ZaBTA
River condition
Environment: alligator-infested
Distance : 1.5~2km
Water flow : gentle
Velocity of flow: less than 1m/s
Turbidity: >300NT U
Bottoming visibility: 1.5 m
Depth: 2~3m
Salvage Process
Step 1: Determine a searching plan
To introduce the weight ,shape and size characteristics of salvage equipment, and determine a searching plan with CHASING M2 and CHASING Grabber Claw.
Step 2: Installation and connection
Install and connect CHASING M2 and Grabber Claw in 10 minutes.According to the searching plan , CHASING M2 dived into the planned water and the whole process was broadcast on media.
Step 3: Search with CHASING M2 and CHASING Grabber Claw
According to feedback on the CHASING GO1 APP, the down water is the alligator-infested.The sediment layer is thick (the prediction is in the range of 1.5 m ~ 2 m). M2 has 8 Vectored Thrusters layout which allows OMNI movement in all directions. With the anti-sand motor, M2 can move forward and search around.With the underwater picture displayed in real time through Chasing M2's high-brightness screen control console ,a red snorkel was spotted. The counter current search has some resistance and the overall search condition is stable.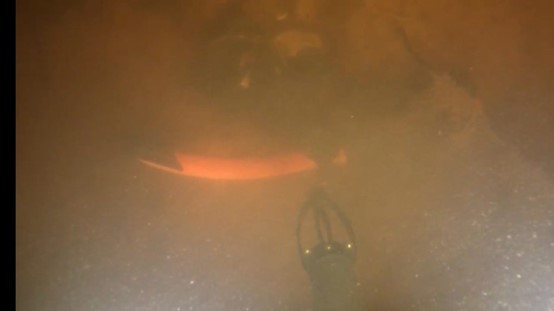 Step 4: Grab the helmet and the attached GoPro
With the two-jam clamp , CHASING Grabber Claw has grabbed the snorkel ,which was attached to the helmet ,and the GoPro is on its top.The objects have successfully lifted and salvaged by CHASING M2 pro and CHASING Grabber Claw.
What is CHASING M2's role in this event
1. Improve the efficiency of salvage and job security in complex underwater environments.
2. The clear pictures and videos help to accurately determine the underwater situation.
3. Accurate depth and temperature data helps to quickly formulate salvage plans.
5. Save costs and reduce the risk of manual working underwater.